Desktop PC Repair Sheffield
If you've got a problem with your desktop computer, Mac or Windows, we can help.
Common computer repair work we do in Sheffield includes: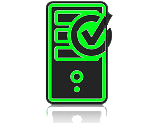 Fixing blue screens and crashing systems
Restoring normal boot to laptops & desktops failing to fully boot
Rescuing data after hard drive failure
Fixing wifi and internet connection problems
Repairing non booting machines
Speeding up old and slow machines
Upgrading components such as RAM, hard drives and graphics card
We can come out to your location or you can drop off the machine and most work can be completed quickly and on the same day.
Some more computer repair services we can offer Sheffield:
Computer data recovery services to Sheffield
Hardware and software error diagnosis for computers in Sheffield
Faster booting and speed up computers in Sheffield
Prevent over-heating for computers in in Sheffield
Full computer health check-ups in Sheffield
Printers and scanner installation for Sheffield computers
Internet, networks and wifi solutions for Sheffield computers
New computer set-up in Sheffield and nearby
Windows re-installation for Sheffield computers
Sheffield virus removal for computers.
Black, blue and grey screen error fixes Sheffield
Computer repair gallery:
This was a desktop computer a Sheffield customer bought to us because it kept restarting and was very loud. We cleaned all the internal components, including the central processor's heatsink and fan, motherboard, power supply unit and other fans. The system was then reliable with no random restarts and the fan ran at normal speed and sound level.

The graphics card in a gamers PC is often worked very hard and this means it gets hot and need cleaning. The fan speed increases to push more air past the heatsink to improve cooling. This also means more dust, hair, dirt etc. gets pushed through the heatsink. Eventually airflow gets blocked and the cooling is insufficient which can lead to glitchy graphics, random reboots and a burnt out graphics card. Our gaming customer in Sheffield was able to get back to gaming without interruption on their repaired computer.

This is a power supply unit (PSU). In one job we had we diagnosed a faulty PSU not supplying enough power after a little detective work and fitted a replacement ready for the customer to take home the next day.
Computer Repair in Sheffield 01144070128 or 07552380585
*PSU Image used with permission from: aimee rivers